Welcome to the Koi Pad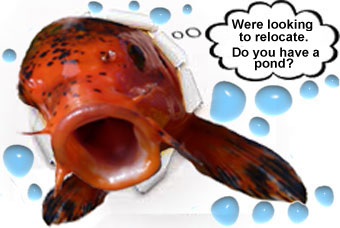 UPDATED MAR 12 - 2013
LATEST NEWS
04.18.2012:
Hello visitors, today is April 18 2012 the first day this year that we have koi in our holding tanks. Due to the volume of emails and phone calls related to our koi, stocks go up and down on an ongoing basis.....
04.18.2012:
Please not that; For the time being we will not be able to post pictures of koi in our tanks due to stock turn around, it is possible that later on this spring some picture updates will become available... Again this year we are assuming that it will be a slow process to keep stocks up due to the fact that we are still having an extremely hard time actually catching our Koi.
We are contemplating building a couple of new ponds to help out in our ability to keep our tanks stocked.
UPDATE May 2012: 2 More ponds were built!